North Shore carpet cleaning for allergy sufferers
From tree pollen to dust mites and animal dander, allergy sufferers can get a reaction from many different sorts of contaminants. Unfortunately, the home is an environment where it's all too easy for particles of dirt and allergen molecules to build up. Even with regular cleaning, it's surprising how much dirt can accumulate. This can be a particular issue in carpets, upholstery and other soft furnishings. Particularly if a carpet has a deeper pile, dirt can lodge deep in the fibres, beyond the reach of conventional cleaning machinery or methods. In these circumstances, we can help.
How does our carpet cleaning service remove allergens?
There are a number of ways in which what we offer is significantly different to the type of cleaning you would normally complete at home. Essentially, there are two ways in which cleaners can remove allergens: the first is through mechanical methods. This means that the cleaning methods physically remove the dirt, using suction, scraping or similar.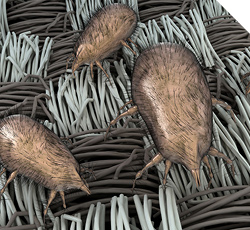 The second method is chemical cleaning: through the use of appropriate cleaning products, it's possible to kill or neutralise allergens such as dust mites. They are still present (unless removed by mechanical cleaning), but become inactive. When you use us for your upholstery or carpet cleaning, you'll find that we use both physical (mechanical) and chemical cleaning actions, resulting in a really thorough clean that removes the vast majority of allergens. We also have fantastic new products that can kill viruses as well, so you can rest assured your family will stay safe and healthy.
We clean where the allergens lurk!
Air conditioning, carpets, couches, chairs and grouting are all places where grime can build up without being noticed. Regular cleaning doesn't usually include a thorough clean of these areas. Air conditioning, in particular, can be tricky to clean without the right tools and products. Use us to reach those challenging parts of the house, ensuring the entire property is pristine.
Removing stains and discolouration as well as allergens
Our service removes not only allergens but also the dirt which has caused your upholstery or grouting to look stained or unappealing. Use us to enjoy a more attractive, hygienic home!
When you contract with us to carry out your North Shore carpet cleaning, you can expect:
– the use of cutting-edge methods
– thorough cleaning that gets excellent results
– the use of pet safe and child safe chemicals
– a punctual, courteous, considerate and hard-working team
– competitive pricing on every job
Get in touch to find out more about what our North Shore carpet cleaning service can offer when it comes to allergy-friendly cleaning. Why not give our professional team a call today on 0435 821 187