Flood Damage Carpet Restoration
Australia is a land of extreme weather – from extreme heat and raging bush fires to wild winds and pouring rain. Unfortunately, floods happen all too frequently. On top of that, flooding can have all sorts of internal causes, such as burst pipes, overflowing toilets, leaking shower recesses or broken air-con units.
Having worked in the business for over ten years, we've helped thousands of people to recover from flooding. We can even assist you in identifying sources of water that seems to appear mysteriously. We should have been there for Noah's Ark!
Get help 24/7
The quicker you respond to a flooding, the lower the chances of permanent damage and its nasty health implications. That's why we're on the phone 24 hours a day, seven days a week to help with flood damage restoration. Don't wait! Give us a call and, like the Little River Band, we'll be there as fast as we can.
If possible, we'll start the carpet drying and restoration process on our first visit. Plus, if you need any other tradies, we can sort them out for you. Organising plumbers and sparkies in an panic can be stressful: let us deal with it.
Qualified and equipped
We are 100% qualified. We even have a certificate to prove it, from the "Institution of Inspection Cleaning and Restoration".
And, even though it's a bit embarrassing to admit, we're a bit obsessed with carpet drying equipment and cleaning products. Even we're surprised at how big our collection is. There really is something for every job, small or large.
Reporting and monitoring
Once we've checked out your carpet, we'll provide comprehensive damage reports, as well as any other info you need. Our eye will be on the site throughout the restoration process, making sure that everything is safe and progressing as it should.
Relax about insurance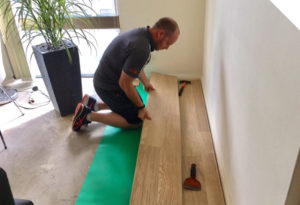 No one wants to think about money and insurance policies straight after a flood. The good news is we've built relationships with numerous insurance organisations, assessors, brokers and builders, including the NRMA. If you're stressed out or stuck when it comes to insurance, count on us to help at short notice. We're in a position to liaise with organisations or brokers on your behalf.
Need help with flood damage restoration?
You're welcome to contact us before, during or after the restoration process for advice and assistance. Simply jump on the phone and call Pristine Dry on 0435 821 187.