How to find the best carpet cleaning services near me
Professional carpet cleaning may not be on the top of our daily to-do list, but it is extremely important. After years of use, your business and home carpets will have built up layers of dirt, dust and muck. Not only will that alter the look of your carpets, but every time the carpet has pressure put on it all of that dust and dirt is released into the air. Therefore it's vital to have your carpets cleaned regularly for both hygiene and aesthetic reasons. You may be thinking "it was easy enough to figure out my carpet needed cleaning, but how do I find the best carpet cleaning service near me?"
First, find a company that has a great long term relationship with its clients. If a carpet cleaning service has great reviews from long time patrons you can bet that they will be ideal for your needs. Customers don't tend to return to a business if they weren't happy with the results. Here's what some of our happy customers have said about Pristine Dry's services: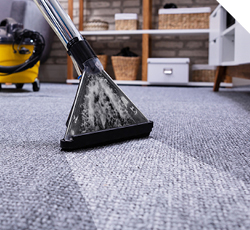 Check that the company gives you plenty of information about what they will be doing to your carpet. The last thing you want is a slap-dash operation that might damage your furniture, damage your carpet or just not do a great job. Ensure you find a company that carefully deals with your belongings as required, pre-vacuums, uses pre-treatment spotting to ensure the best result, uses two types of removal system heat and a scrubbing brush, then completes aftercare and checks on your carpet before leaving. If a cleaning company provides anything less then they are certainly not the best carpet cleaning service around. Consider getting your carpets cleaned as a bit of a treat, you definitely want to get yourself the best service possible.
When it comes to office carpets the need is even greater as the number of feet tramping around on them all day, usually wearing shoes, is far higher. It is important to have your office carpets cleaned regularly so you need to find a company that you will want to work with again and again.
If you are looking for professional and reliable carpet cleaning services near you, contact us at Pristine Dry on 0435 821 187. We will lead you through our available services and figure out the very best option to suit your needs. With Pristine Dry you can expect amazing results again and again.